Want an admission abroad? Are you confused between
IELTS and TOEFL

Are you wondering where you'll be able to score higher? Look no further!
An English Proficiency test is mandatory for abroad admissions from international students of a non-native English speaker country like India. We all have heard "IELTS" and "TOEFL" suggested by our admission advisors, but which test is best for YOUR ACADEMIC NEEDS?
Find out with our master checklist below:-
First and foremost, you need to check the websites of your dream universities and verify their program requirements and minimum scores. If your choice of university mentions one specifically, you can rule the other out.
Refer to the article below to gauge which test will play into your strengths to score well. Decide which test is feasible and which exam pattern is most suitable for you.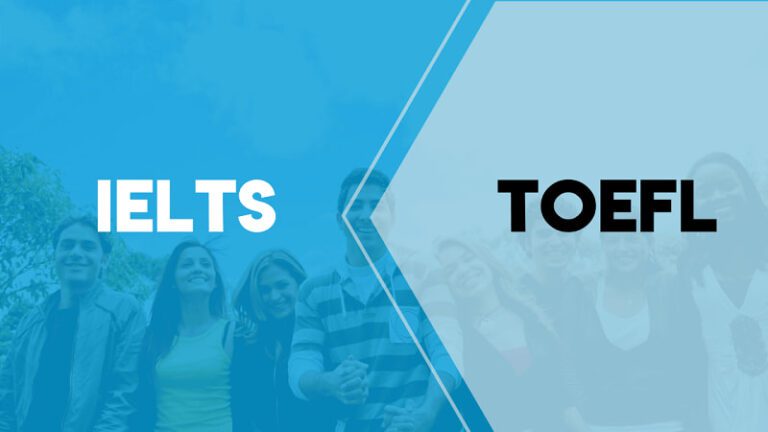 Before we delve into the details of the two exams, i.e., TOEFL vs IELTS, let us first take a quick overview:
The International English Language Testing System (IELTS) is a standardised test which measures English language proficiency, and is often used for universities in Canada, the USA, Australia, UK, New Zealand  and several other countries.
The Test of English as a Foreign Language (TOEFL) is a standardised test accepted worldwide and in most foreign universities where the language of instruction is English. Both exams evaluate your English language skills across four aspects: Reading, Listening, Writing, and Speaking.
IELTS grades you on a nine-band scale to classify your level of proficiency – from band score 1 (Non-user) to band score 9 (Expert User).
You can do this test in 2 hours 45 mins.
You can take this test on paper at the centre or Computer-based online.
There are around 80 centres in India.
      Exam Pattern:
Listening – (30 minutes) – To test your ability to understand a conversation and listen for facts. Consists of 4 sections of conversation recordings with ten questions per section. Includes various ethnicities' accents.
Reading – (60 minutes)– Assesses one's ability to understand & identify the main ideas. Has three sections, comprising 40 questions. You will answer questions based on three reading passages.
Writing – (60 minutes) – To test the skills of writing a well-organised, rational essay on the topic provided. Consists of two writing tasks – One to describe the given diagram/graphs/table in 150 words within 20 minutes. The other requires you to write an essay of at least 250 words in response to the given argument, point of view, or a problem.
The speaking part will take 11-14 minutes, which is an in-person evaluation with one examiner in front of you in charge of assessing your ability to communicate your thoughts & opinions in English. This may be scheduled on a different date than the rest of the test.
The test involves everyday situations to make it accessible and culture fair.
You can take the IELTS exam up to once a week.
TOEFL assesses reading, writing, listening and speaking abilities in a combined test format.
The total test time takes approximately 3.5 hours – including checking in.
Scores are in the range of 0-120. The score range for each exam section is 0 to 30. The advanced score is between 24-30 on average per section.
You can do this as an Internet-Based Test at centres or Paper-Delivered Test proctored at home.
There are 59 TOEFL test centres in India.
Exam pattern:
Reading – (54-72 minutes) – To test your reading and comprehension abilities of university-level educational text. You have to read 3 or 4 passages from academic texts and answer 30-40 questions.
Listening – (41–57 minutes) – To test how well a student listens to classroom lectures and conversations. Involves listening to conversations, lectures and discussions, then answering 28–39 questions based on them.
You will have a break of 10 minutes to stretch and have snacks.
Speaking (17 minutes) – This tests your proficiency in spoken English. You get four tasks/questions based on real-life situations encountered in the academic, social or professional environment. You have to share your views on a familiar topic in the first one, while in the second, you have to combine your listening, reading and speaking skills to respond.
Writing – (50 minutes) – To test your ability to present and write your ideas in a proper and well-planned manner. It consists of two tasks. One – You will have to read a passage, listen to a recording and then type your response. Two – You will have to write an essay based on your experiences or beliefs.
All scoring is handled by a centralised scoring network for fairness and to offer an accurate result.
Differences:
IELTS v/s TOEFL
Now that we have much to think about, let us compare the two.
A notable difference between TOEFL and IELTS exams is in the Speaking Assessment.
There is a face to face interview in IELTS with an assigned evaluator, and it may not be on the same day as the test. In the case of TOEFL you have to answer the provided questions using your computer's microphone. These are recorded in real time and sent to the reviewers.
How to pick what suits YOU ?
After going through the above lists and their exam patterns, see the kind of questions asked for both the exams and reassess which one you are most comfortable answering before taking the final decision.
While both IELTS and TOEFL require basic preparation at the least, the difficulty experienced depends from person to person. IELTS is comparatively shorter, but TOEFL has MCQs and a speaking test which occurs on the same day.
The IELTS pattern is direct and graded independently. However, TOEFL has some extra questions that don't count towards your final score, they do this to make test scores comparable and see how they function during real testing conditions. The IELTS reading section is considered easier according to many candidates, but if you excel in reading and listening to academic content, TOEFL is a good fit. 
You can also choose the exam for which the centre is easily accessible and has suitable exam dates. If you are in a time crunch and need results in time to submit your college applications, you can pick the IELTS since the result declaration takes less time.
If you can concentrate for long periods of time, are comfortable with typing and prefer talking to a computer instead of a person, TOEFL is the right pick for you. However, if you like one-on-one conversations, find it difficult to concentrate on long tests, and prefer a range of questions instead of MCQs, go for IELTS.
All in all, it is most important to weigh your skills and cross-check which test would involve using your strong suits, factoring in time management.