Being a doctor is the most sought-after profession not just in India but worldwide as well. Most Indian aspirants prefer to study in one of India's top medical colleges, but they have limited seats leading to ruthless competition and a tremendous burden.
The best colleges accept only the highest scorers among lakhs of students who appear for NEET, and seats run out instantly. The National Medical Commission recognises 612 private and government medical colleges in India as of 2022. Compare that to over 15 Lakh candidates that appear for the exam every year, and you will realise the fear MBBS aspirants must feel is valid.
Most MBBS aspirants apply to government colleges, avoiding private institutions due to higher fees. Students have to face the harsh option of dropping their degree or pursuing one with incredibly high expenses after not making the NEET merit list. In this position, MBBS Abroad allows you to pursue your dreams despite a low NEET rank and the exorbitant costs of private institutions. There is immense pressure and widespread competition for admissions, and the option of overseas education reduces this stress.
MBBS Abroad can assist you in pursuing your medical degree without worrying about a low rank and expensive private college bills. Many institutions abroad offer quality medical education at very affordable costs for international students. The number of Indian students applying abroad increases by 20% yearly due to the appeal of overseas MBBS.
There is a simple answer to why one should study MBBS abroad: Greater chance of admission and exceptional opportunities.
So, What are the benefits of studying MBBS abroad?
1. Direct admission: Yes, you read that right! There are no separate entrance exams for admissions; you usually require 10+2 mark sheet with PCB+English. Countries like Ukraine, Russia, Kyrgyzstan, Kazakhstan, Bangladesh, and Georgia grant admissions for passing the NEET with a lower cut-off.
2. QUALITY of education: Apply to institutes with top-notch infrastructure recognised by top medical councils like WHO and MCI/NMC. The instruction at these colleges is of excellent quality, with the latest technologies integrated with practical knowledge. Universities hold an international standard approved by these organisations and maintain this approach for all students. 
 3. Get international exposure: Students will get an opportunity to live in a new country and establish global connections. It is an experience where you will meet people from different backgrounds, can learn a new language and develop new skills to grow professionally. You will get acquainted with a new culture and community. You will be taught and utilise state-of-the-art medical technology with a good teacher-student ratio. It is a promising move for your career; you can even get your medical license to practice in that country. 
4. Affordable tuition: There is a common misconception that all universities abroad will drain your bank accounts, but in various countries living cost and tuition is economical. Compared with private colleges in India, costing you around 30-80 lakhs, it will cost you 15-30 lakhs abroad. There are also NO DONATIONS required. The housing and daily expenses are also reasonable for students with hostel options. Including outstanding marks, you may even get scholarships depending on the university.  
5. No language barrier: Most countries' medium of instruction is English, so it will not be a problem in your transition to an international university. The minimum requirement is passing (with 50%+) English as a subject in your final school examinations.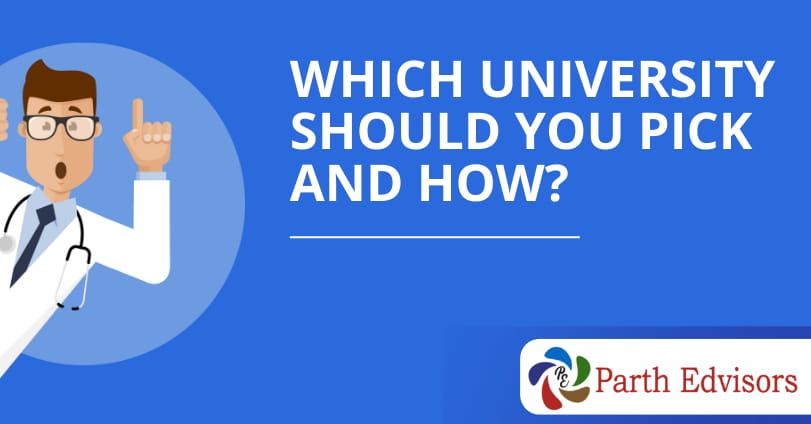 There are factors, personal and academic, to consider before finalising the university that will shape your career.
First and foremost, pick a country where you want to study. The best for MBBS is Russia, Ukraine, Kazakhstan, Nepal, Georgia, Kyrgyzstan and the UK.   You can make a list of universities based on the following and compare them to find one best suited for you: 
The most crucial part is to check the number of years they have been teaching MBBS and the faculty qualifications if possible. 
Check for recognition from the medical councils and the year of establishment. 
Of course, you must find the pre-requisites listed on the university websites. Check the cut-offs and minimum requirements for international admissions. 
Find out the tuition costs, hostel accommodations and average living expenses. Look for meal plans at the college too. 
Another essential step is to look at alumni reviews and the overall reputation of the university. This search includes the residence, food and student facilities besides teaching. 
Look at the current number of students studying in the said university. 
Apart from the education aspect, explore the country of your choice. See the climactic conditions, lifestyle, cultures, community, diversity of students and safety factors. 
Do not hesitate to enquire about the universities by contacting them, and be up-to-date with their policies and requirements. 
Ask your career counsellors and guides if you have any questions.
Check if they have FMGE coaching options. 
Understand and research the visa process for your specific country.
Admission process:  The primary reason students prefer international universities is their straightforward admission process. The students can check the pre-requisites and apply online easily. There is no extra entrance test and a smooth process after the submission of the documents. 
Requirements –
Class 12 marks must meet the eligibility criteria of the university, such as 50% in Physics, Chemistry, and Biology in the general/non-reserved category. 
For reserved categories such as SC/ST/OBC, you can apply with a minimum of 40% marks in Physics, Chemistry and Biology, according to the guidelines of NMC/MCI (Medical Council of India)
Copy of your passport 
NEET eligibility/qualification proof
Any additional requirements listed, like a personal interaction with the university. (Varies by universities)
After receiving the admission letter, the student gets invited by the Ministry of Education of the respective country. Then the consultant applies for the student's visa. After its authorisation, students are provided with pre-departure training. Representatives will be available to ensure a safe send-off and they will receive you at the airports.
Some names of universities abroad:
Refer to this quick checklist to finalize your choice of International college:
To sum it up, keeping your option for abroad education can prove to be extremely helpful considering the NEET merit prospects in India; this way you don't have to worry about pricey admissions and low ranks. You can secure your admission with 12th grade marks and minimum NEET requirements, avoiding hassle. International MBBS experience will help you thrive professionally, expand your knowledge, provide high quality medical equipment and advanced technology. Apart from the excellent courses, you will also get to understand and interact with different kinds of people, this will definitely help prosper your soft-skills and interpersonal skills.